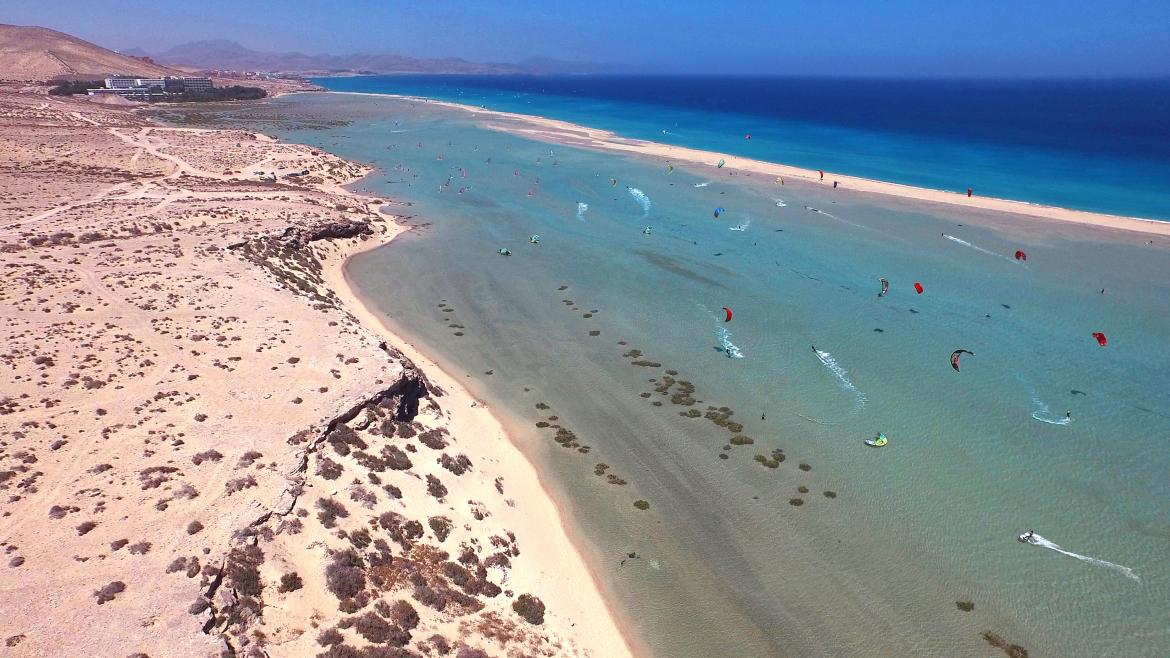 René Egli Fuerteventura counts with more than 33 years of experience for excellent windsurfing and kiteboarding holidays with two fully equipped centers with countless amenities in the south of the island of Fuerteventura. The spot on the kilometer long, fine white sand beach of Playa Sotavento is famous for its excellent wind statistics and all year-round, warm air- and water-temperatures. Fuerteventura is easy to reach after only 4 hours flight time with many direct connections. Furthermore, this spot is since 32 years in a row the venue of the annual Windsurfing and Kiteboarding World Cup with the world´s best athletes. A special highlight of the "Playa Sotavento" beach is the tidal lagoon where you find dreamlike learning conditions for all levels - René Egli owns the exclusive license for classes in the lagoon.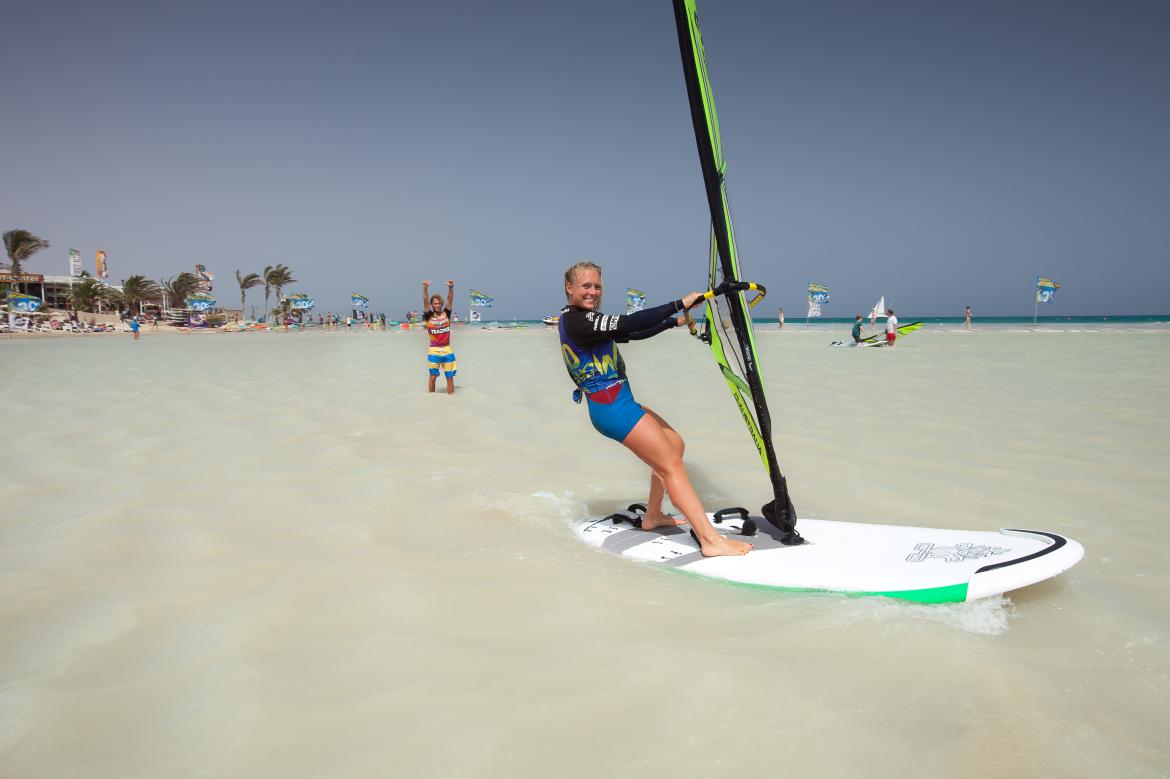 Whether beginner, intermediate or advanced, with René Egli everyone can find a suitable course with a professional instructor and they dispose of a huge variety of material which you can also rent: 650 kites + 250 kiteboards of Cabrinha as well as 1000 sails from NeilPryde and 450 boards from JP and Starboard (completely replaced every 6-12 months).
The René Egli Kite-Center is situated in an idyllic location in the palm tree garden of the Hotel Meliã Gorriones and directly at the (tidal) lagoon. The center awaits it´s guests and companions with all kinds of amenities such as the beach-bar, fresh water showers, wind-protected sun oasis, free WiFi and sanitary facilities - a professional photographer and physiotherapy service are completing the offer.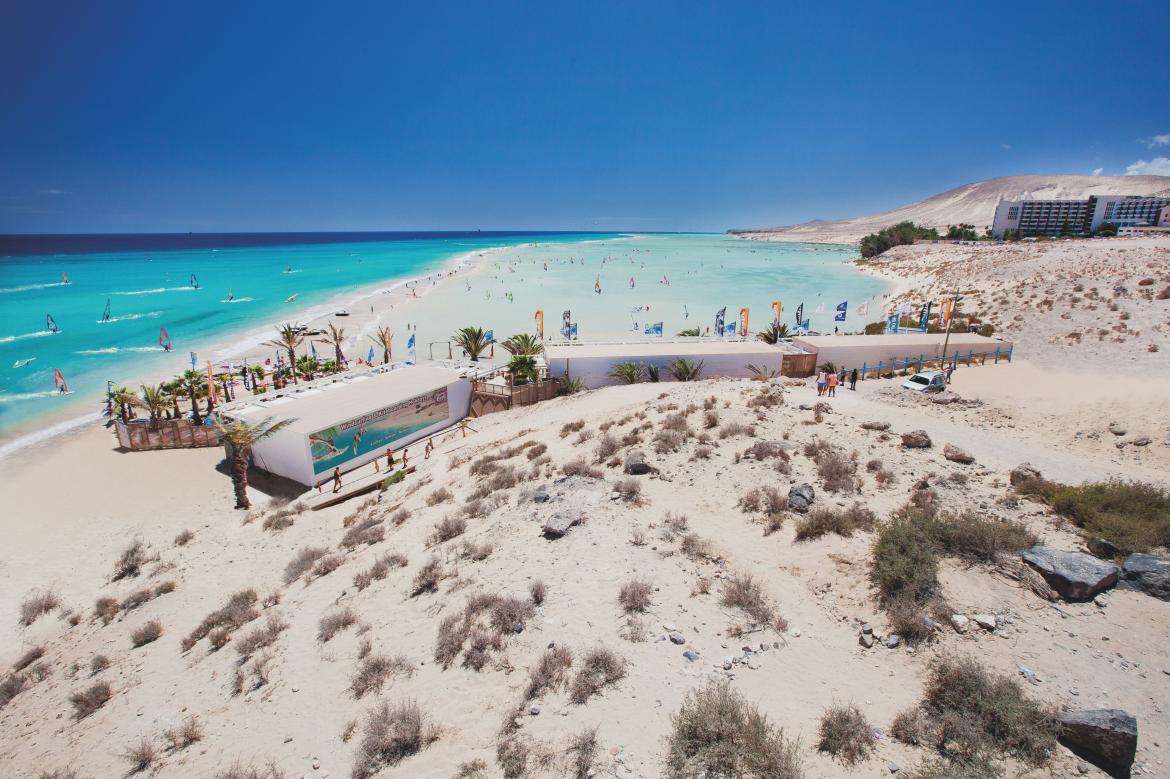 The windsurf-center is located only 200m away, directly located at the shore – hosting all guests with an incredible selection of first-class equipment.
In the spacious watersports-area on the turquoise sea, you´ll find a permanent supervision from elevated security towers as well as (up to) 6 jet skis to provide the safety – whereas in the shallow lagoon flat-water enthusiasts can enjoy the unique conditions. Furthermore, Beach Sailing courses are offered and a shuttle-service as well as the use of Stand Up Paddling boards are free included for all customers. The proximity to the 4 **** + Hotel Meliã Gorriones - in direct walking distance to the centers provides a perfect combination of high quality accommodation and a professional service. Watersports enthusiasts can find any kind of accessories such as wetsuits, harnesses, etc. in the René Egli Megastore - also used and new material is offered at attractive prices.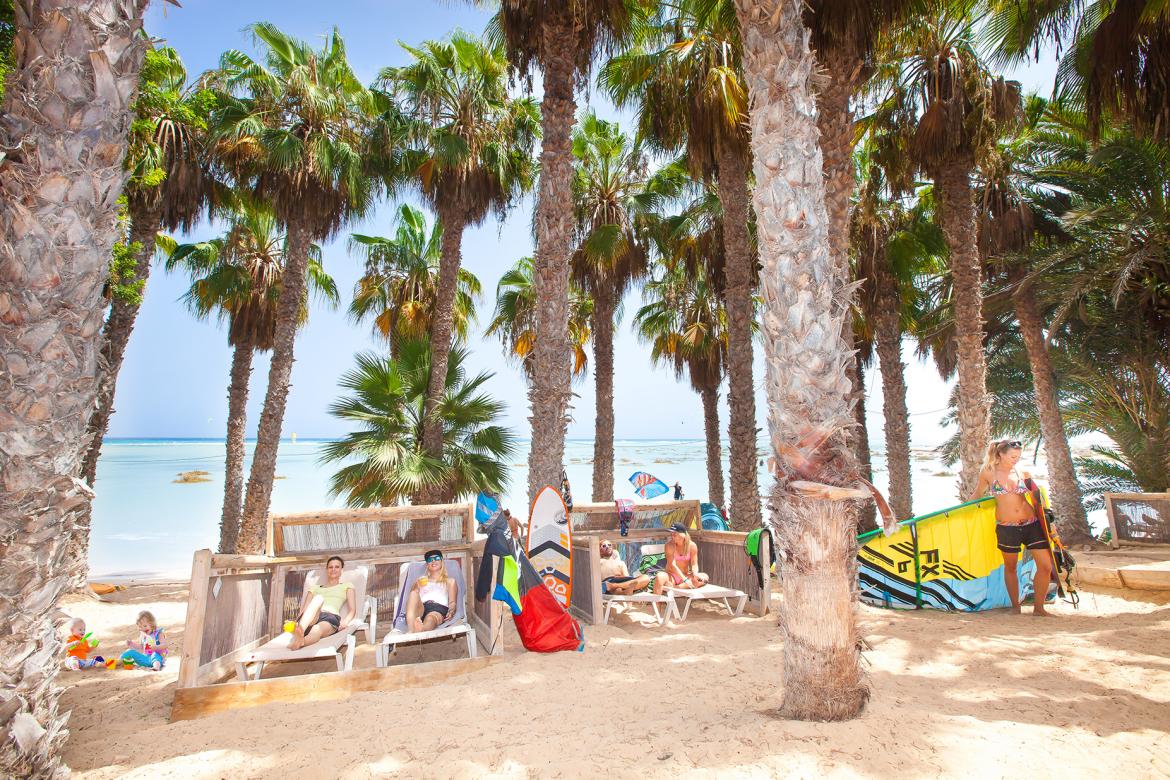 For après surf, the Fuerte Action Bar is THE place to be with action-videos and live music or to enjoy the offer of the 12 Fuerte Action Shops - with own designs and attractive partners branding.
On the René Egli homepage there is a rotating live webcam of the spot – furthermore you´ll find all information about courses and rental equipment, as well as a comfortable online booking system: www.rene-egli.com